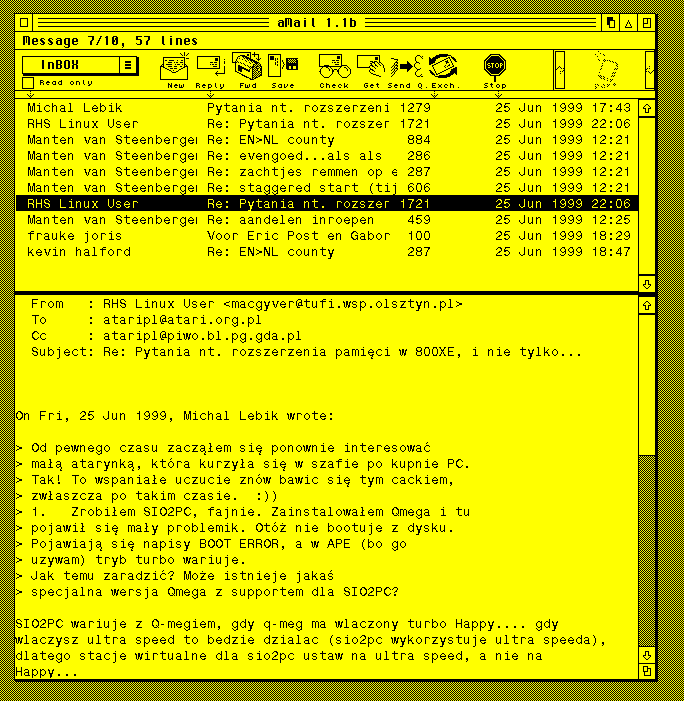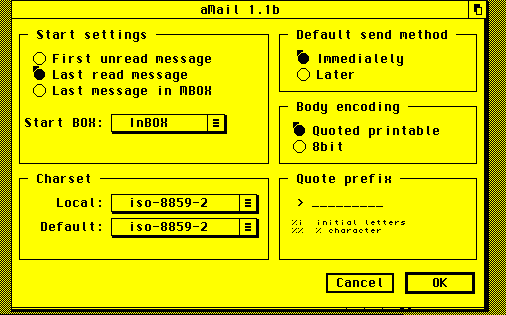 Vˇˇr versie 1.1b was het me dus niet gelukt om Amail goed te laten werken - d.w.z email ontvangen en versturen - om van allerlei extra features maar te zwijgen. Niet voor niets schrijven de auteurs in hun Frequently Asked Questions (FAQ):
Question: Does aMail work on MagiC ? Answer: Primary aMail development & testing environment is MiNT/N.AES. aMail has also been tested by several people running MagiC/STinG/qed and they reported it worked fine. However, we do not provide support for aMail on MagiC and we do not guarantee future versions of aMail will work on it.
Question: I can't send mails (after having edited it, nothing happens in aMail). What shall I do? Answer: You probably didn't read aMail documentation. Please start over and read the section about software requirements.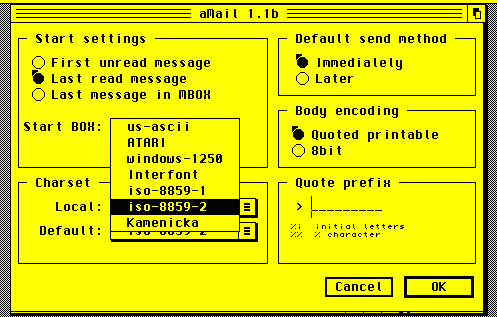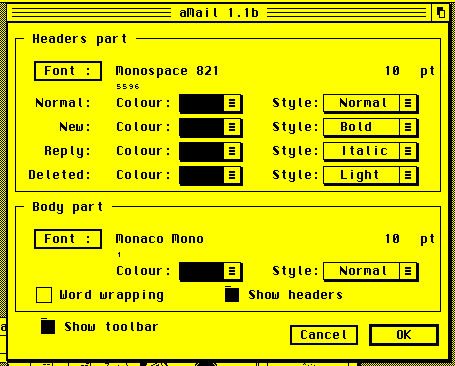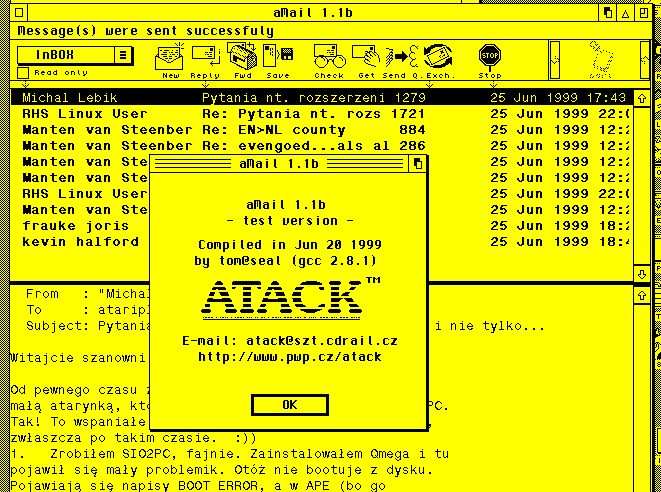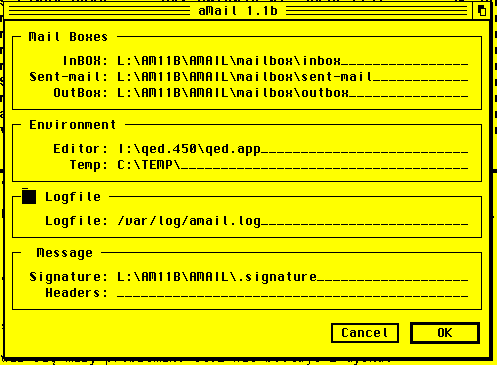 Groot was mijn verbazing toen ik merkte na de laatste błta-versie [1.1b van 20.06.1999] te hebben opgehaald en geinstalleerd dat in ieder geval de twee primaire doelstellingen gehaald werden. En aangezien ik in de nieuwsgroepen nog niets daarover had gelezen heb ik dat maar snel van de daken geschreeuwd bij 'comp.sys.atari.st'. Reacties daarop kwamen onmiddelijk maar voor een deel negatief. Kennelijk is het toch een samenspel van [geluks]factoren waarom het lukt of niet. Zoals uit de FAQ blijkt kunnen de auteurs ook geen garantie geven.
Hoe zit het met de door mij zo gewenste ondersteuning van de ISO-8859-x standaarden? Bij een als default opgegeven tekenset voor ontvangst ISO-8859-2 komen de Poolse teksten goed over. Je moet wel de goede fonts ingesteld hebben. Locaal heb je de keuze uit een aantal tekensets waaronder de mij onbekende 'Interfont'.